Home » Campsites, Top Accommodation
Camping Amarin Rovinj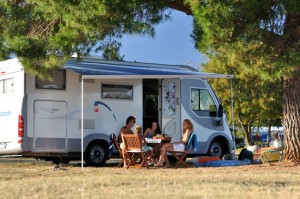 The camp Amarin, is situated in the small village by the same, a few km up the coast from the centre of Rovinj, the camp which have recently been renovated is an excellent choice for a family camping holiday.
The centre of the campsite is a pool and recreation area situated almost on the beach, this area offers plenty of recreation and entertainment for the whole family. For those who just want to enjoy the sun and the Sea, the pebble, rocky and even sandy beaches offer plenty of spots for a relaxing day, by the Mediterranean Sea.


Facilities at Camping Amarin:
Camping Amarin has several sanitary buildings with toilet as showers, as well as handicap facilities and areas for washing dishes
The culinary offer at the camp included several bars and restaurant, e.g. Pizzeria Kandela, where Italian inspired dished is cooked in the fireplace.
On the campsite there is also a supermarket, a hairdresser and massage studio, an internet point is also available.
For sport people there is an almost endless list of activities, starting from traditional stuff like, beach volleyball, badminton, soccer, to more exotic sports activities like blind Volleyball (Net is covered), graffiti making school and Karate workshop.
For the smaller ones there is a mini club running a changing program in the morning hours, in the evening, mini disco, talent show etc is on the program. If the kids want to enjoy on there own, they can do so on the camp playgrounds.
The teen club (12-18 years old) has a daily program for the older children.
Lots at Camping Amarin:
Camping Amarin offer a total of 670 lots, which can accommodate around 2000 campers.
The lots have access to power and water.

Mobile Homes and Apartments:
Mobile home and apartments are not available at the campsite, but suites or rooms are available at the Amarin resort, which are situated in the vicinity of the Amarin Campsite.

Distance to larger cities in the Area
Distance to the centre of Rovinj is about 5 km, which takes about 15 minutes
Other Camps in the Rovinj Area: – Click the map to see all camps in Istria
Contact details of Camp:
Address: Monsena b.b., HR – 52210 Rovinj, Croatia
Phone: +385 52 802 000
Fax: +385 52 813 354
GPS: N 45 06.526  E 13 37.196

Photos from Camp Amarin:
Tags: Camping Istria, Camping Rovinj