Home » Hotels
Hotel Bastina Angelo d'Oro Rovinj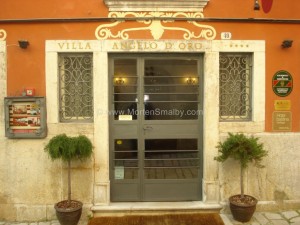 Hotel Bastina Angelo d'Oro or simply Hotel Heritage, for baština is heritage in Croatian, is found in the Istrian town of Rovinj. Both are little gems. Rovinj offers a blend of sun and sea, events and culture and gastronomy peppered with calm, while the Bastina Hotel is rather unique among hotels in Croatia: it offers a sort of time travel to tradition, whether in the sense of room furnishings, art included, or zaps to modern wellness amenities.
Rooms and suites at Hotel Bastina Angelo d'Oro:
The Hotel has 24 rooms only, so it is perfect for those that do not tolerate packaged tourism. Lounges too are decorated in a traditional manner. The rooms are equipped with air conditioning, mini bar and SAT TV.
Facilities at Hotel Bastina Angelo d'Oro:
The Angelo d'Oro is some one hundred metres from a rocky beach. This might be a perfect complement to your secluded accommodation situation. But this does not entail your holiday will be uneventful. Indeed, if idle is your mood, it can be had; the hotel comes with a garden and great international gourmet culinary offer, wine included. But the staff are more than happy to offer solarium, sauna and Jacuzzi that are included in the price of your stay.
An all-year-round guarantees 10 per cent discount if you stay or more than 7 nights as well. At additional cost, you may indulge in a massage or go cycling. Special treats available are boat or bus daytrips, fishing or diving and even panoramic flights. The hotel is undergoing a major reconstruction that should be finished by end of April.
Hotel contact information:

Hotel – Baština (Heritage) "Angelo D'Oro"
Tel: ++385-52-840 502
Fax: ++385-52-840 111




Tags: Hotels Rovinj